We are Wellington | Blending UK heritage with a modern mindset
Elita Yang, her husband and their daughter Jia-Mi have been part of our Wellington community for more than three years. As part of our ongoing We are Wellington project, they share their thoughts on choosing Wellington College for their daughter and their experiences as one of our founding families. When it was time to decide what kind of education we wanted to give Jia-Mi, we inspected all of the international and bilingual schools on offer in Shanghai before choosing Wellington. We made that choice because Wellington seemed like it would meet and exceed all of our expectations, particularly those of giving our daughter a rigorously academic education but with a broad and varied set of different experiences. At the same time, we wanted her to have a happy and exciting education, where she would be able to maintain her sense of curiosity and learn more about the world around her.
Once Jia-Mi started at Wellington, we very quickly began to feel that we had made the right choice. After three years of being educated here, Jia-Mi's English is almost as good as that of her native-speaking classmates. However, as Chinese parents it was equally important to us that she retained her understanding of the Chinese language and culture. Fortunately, when I compare my daughter's Chinese reading, writing and speaking skills with that of local children in Shanghai, I can see that she is just as capable as they are, so she hasn't lost out on anything.
Fostering independent learning and critical thinking
Even though she is only in year 3, Jia-Mi has already begun to develop a mindset where she can learn and solve problems independently, both at home and in class. She can debate, she has a much wider knowledge base than before, and she has developed very good presentational skills. This is a very positive change for us to witness, because she is quite a shy girl and she previously didn't really enjoy the prospect of public speaking.
Now, however, she is fully capable of giving presentations in all of her classes. She carries out her own research, forms her own ideas and then makes mind maps and other preparations as well. We have noticed this newfound confidence and independent spirit outside of school too, as she's always very interested in being involved in the adults' discussions. She has her own opinions and always expresses herself clearly, maturely and intelligently, which is wonderful to see.
Becoming part of the Wellington community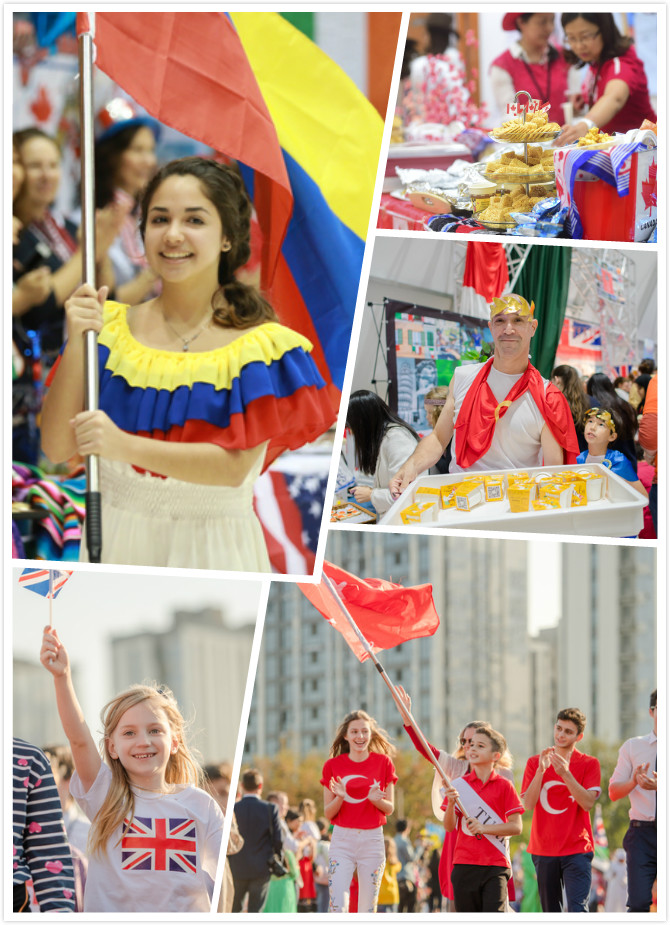 Since joining Wellington, our family feels part of the Wellington community, which is made stronger and closer through the many events and activities that the school holds throughout the year, such as the Chinese New Year celebrations, International Food Fair (IFF) and the Summer Festival. My favourite is the IFF, because everyone gets to celebrate their home country by sharing their culture (and food!) with everybody else. When the children join in the parade, wearing their national dress and carrying their respective country's flag, watched by their very proud parents, I really think that it's one of the most touching moments in the school year.
Learning from the past while looking to the future
Wellington has a long and proud tradition of successful educational experience in the UK, which has clearly influenced the development of the Shanghai school as it has followed the educational philosophy of the UK campus. However, Wellington College International Shanghai is also creating its own path, as it aims to become the best international school in Shanghai, which we think is a very exciting, admirable and ambitious goal!
It's clear that everyone who works at Wellington really cares about achieving this ambition: the teachers, the leadership and the support staff, they are all working as hard as they can to make Wellington the best it can be. It is plain to see that for them, this is more than just a job, it's a passion. Of course, this is exactly the kind of educational environment that parents want to put their children into. It's this combination of following a great tradition while also forging a new path that makes Wellington College International Shanghai a very special place for children of different ages to come and be educated.
Do you have a Wellington experience to share? Leave a comment or email us at
communications.shanghai@wellingtoncollege.cn