Wellington's Christmas Bazaar gets the whole school prepped for the festive season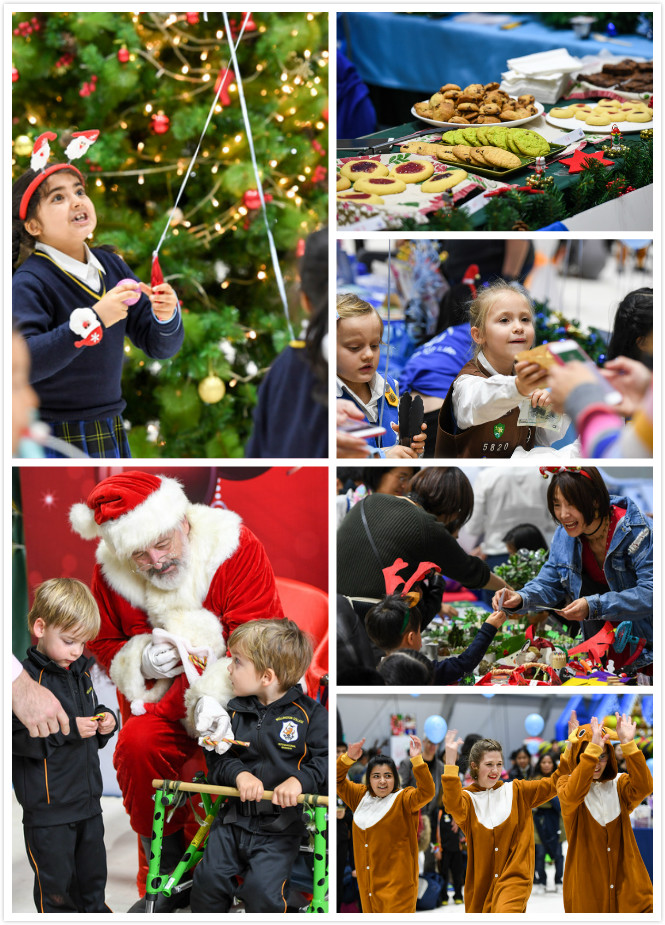 Deck the Dome with boughs of holly, because its beginning to look a lot like Christmas! On Friday 24
th
November, the Dome was converted into a winter wonderland stuffed full of Christmas cheer, with plenty of festive foods, gifts and amenities for everyone to enjoy in the run up to the end of term and the holidays beyond. With piped-in carols and Christmas classics (not to mention the king of Christmas crooning himself, Michael Bublé), parents, pupils and staff were met with wall-to-wall stalls and attractions the moment they entered the Dome. Of course, everybody knows that a major part of Christmas is indulging in decadent eating and drinking, and the bazaar had this angle well and truly covered. From savoury Vietnamese gourmet spring rolls, to a vast selection of sweet treats, including homemade Christmas cookies and cinnamon rolls, pies puddings and candies, complete with spiced mulled wines, there was no shortage of tables groaning under the weight of their Christmas culinary delights. The younger pupils could work off some of their sugar on the festively-themed bouncy castle and even meet St Nick himself while getting the chance to make sure he knew what they wanted for Christmas this year – provided that they have not been naughty, of course! The stalls were also packed with everything you could conceivably need to prepare for the festive season. Beautifully crafted decorations and ornaments, shiny wrapping paper, wreaths and lovingly potted Christmas trees all drew the eye of everyone who passed by. For those stuck for gift ideas for their nearest and dearest, inspiration was close at hand: gorgeous handmade jewellery, handbags and perfumes, smart shaving sets (complete with straight razors for those with a steady hand), warm coats and scarves, Chinese ceramics and even some wonderfully unique pipework sculptures meant that there was something for every stocking. For the truly hard-to-shop-for, there were also plenty of gift experiences to explore, including beauty spa days and chemical peel treatments. As well as pampering possibilities, a rather exciting Star Wars-themed debating and public speaking weekend experience from Upper Holistic was on offer for pupils. Designed to boost children's' confidence regarding public speaking in a fun, unique setup, attendees of this weekend experience in Suzhou would enter the Star Was universe, sleeping in starship pods, meeting alien races and engaging in all manner of exciting adventures, no doubt swinging a lightsabre once or twice between debates! The Christmas Bazaar was also an excellent reminder of the reason for the season: caring for others and giving back. The Friends of Wellington and pupil volunteers (playing the part dressed up as elves and reindeer) did a commendably excellent job of raising money and awareness for the chosen charity, Xizhen, which provides an education for children in China who are less fortunate than our Wellington pupils. The charity tombola was a big hit, thanks in large part to the generosity of the attendant vendors and many parents who contributed the excellent prizes. Our elf and reindeer-clad pupils were also out in force, selling FoW cookery books and teddy bears for Xizhen and a variety of other charities present. Hannah Edstrom, Wellington parent and FoW charity committee member, had this to say while helping to run the tombola stand:
"Everything we're collecting today will go to Xizhen and will help less fortunate children get a better education, which is just a hugely appropriate and worthwhile cause for the College and FoW to be supporting at Christmas: the season of giving. We have a great range of prizes thanks to everyone's generous donations. As is always the case with Wellington events, everyone has been incredibly helpful and generous with their time. I hope everyone has had a lovely afternoon and they've hopefully found a few gifts to put under the tree!"
With the holidays rapidly approaching, the Christmas Bazaar kicked off the festive season's celebration in fine style, with the The Sound of Music and the Christmas concert just around the corner.