United Nations Day 2017: Sharing our Culture and Cuisine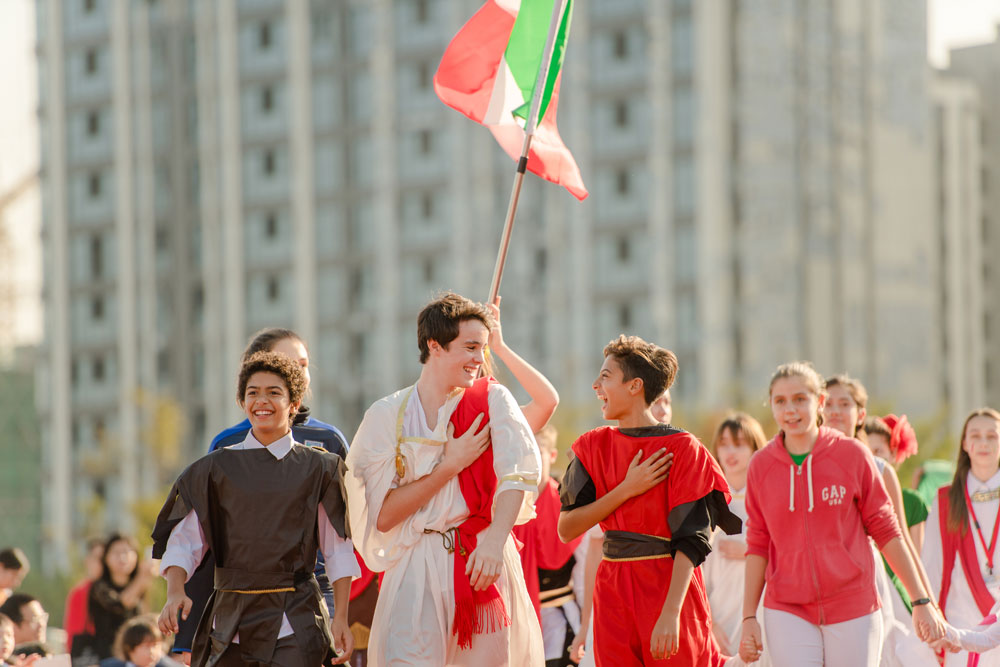 On 24
th
October, blessed with fantastically sunny weather which seemed tailor-made for the day, the Wellington community came together to celebrate its 4
th
annual United Nations Day and International Food Festival. This colourful and light-hearted event has steadily grown to become a genuine highlight of the Wellington calendar and a highly appropriate way to mark the spirit of United Nations Day. The festivities began with an Olympic-style parade, where the pupils, parents and teachers celebrated the diversity of our community which is made up of more than 40 different nations and territories from around the world. Each country was given the spotlight for a short duration as its nationals passed the spectator bandstands, with some of the older pupils introducing them with a shortlist of fun facts and interesting cultural trivia. After an opening address from Principal Eleanor Prescott, Zoe from year 12 started the introductions with Australia, Belgium and Brazil:
"I love the IFF, this is my fourth time being involved with it. It's always such a fun and cool way to really get everyone thinking about just how many different countries and cultures make up the school. The food is just incredible and you get to hop around the whole world in one room, enjoying and learning more about your own country as well as everyone else's. I think this is really important for international school pupils: I was born in Germany but I only lived there for two before coming here, so it's great to celebrate everyone's various backgrounds together."
Following the parade, the crowds eagerly entered the dome. With individual stalls dedicated to every country lining its interior, adults and children found a feast of international food and drink designed to excite every palette and suit every taste. Thanks to the amazing efforts of dozens of parents, organised and led by the Friends of Wellington, everyone was treated to an absolute feast of sensational culinary treats from around the world. Plates quickly became laden with delicate hand-rolled sushi from Japan and zesty Lebanese tabbouleh, richly spiced Indian and Nepalese curry, hearty German schnitzel and Greece's addictive combo of feta and olives. Those with a sweet tooth weren't disappointed either, as Canadian maple syrup pancakes, Dutch waffles, a "British Bake off" selection of cakes and many other desserts were a delight for everyone. Clearly, this is just the tip of the tremendously tasty iceberg, as all the stalls were near-overflowing with enticing food, alongside colourful flags, bunting and displays which were fun, informative and demonstrated that a great deal of pride was being taken in every country's culture. Eagerly serving treats to all-comers, FoW parent Maya Tarabay-Schisano commented on the growing success of the festival:
"The IFF is one of my favourite events and it's just getting bigger and better every year. I love how it represents our diversity but also our sense of unity. You feel kindness all around you because everyone wants to share and enjoy their culture and their food with one another. Not only that, the IFF is about teaching our children how to become a respectful member of a united, inclusive world. It's been so great to see so many parents supporting the event too, it really shows the strength of our community to see everyone continually rising to the occasion and all pulling together."  
The IFF is a celebration of who we are as a community as well as individuals. Not only is it a hugely fun way to learn about our differences, it also shows what brings us together through a celebration of our similarities and mutually-held values. We are teaching our pupils to become global citizens, so it is vital that they learn to cultivate respect and intellectual curiosity for other cultures and internationalism in general. This extends to respecting the planet itself, as it is our shared home and something we are all responsible for protecting. As such, environmental sustainability was another key focus of this year's festival.  Pupils of all ages pitched in to help clean up and sort waste into various bins, helping to make things as environmentally sustainable as possible. As the College continues to expand and diversify, the United Nations Day and International Food Festival is an annual reminder for us to take the time to appreciate our individual and shared heritage through cultural curiosity and exploration, not to mention a universal love of fantastic food! We hope to see you for IFF 2018, which will no doubt serve up an even greater culinary spread.