We are Wellington | Learning to love and respect books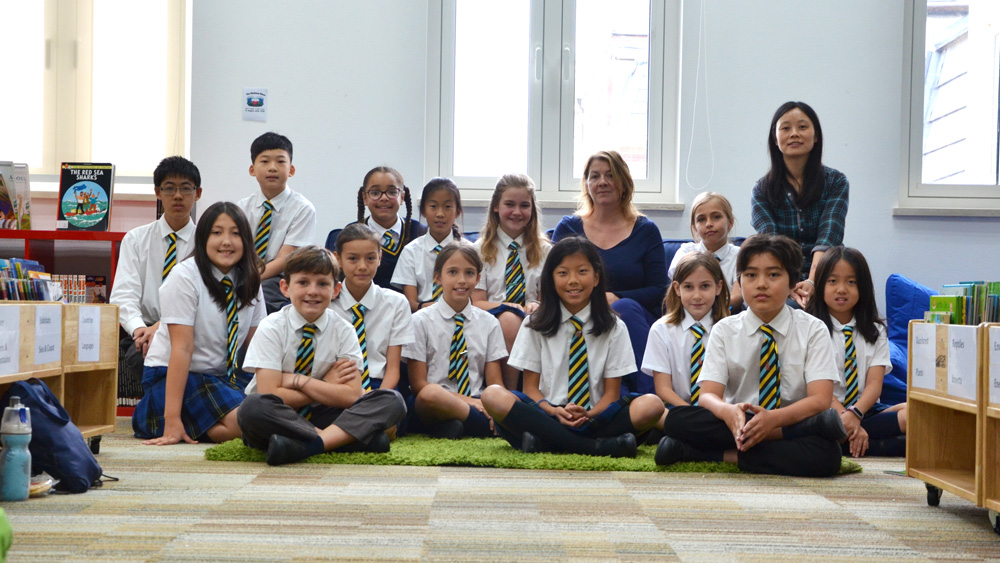 After its successful start last year, Wellington's pupil librarian programme is going from strength to strength, as avid readers and book lovers sign up to be a part of the library's maintenance and ongoing development. With their duties organised by our resident librarian, Mrs Jacobi, the pupil librarians have been discovering that there is a lot more to books than their covers, pages and ink.
Developing interests and skills beyond a love of reading
The pupil librarian programme is designed to give pupils the opportunity to develop a greater understanding and respect for books, as well as the knowledge that they contain. The library isn't just a corner of the school for housing books; it is a place where books are discovered, shared, enjoyed, absorbed and even loved. Our pupil librarians play a very important role in ensuring that it remains dedicated to this vital purpose. As they conduct their duties – tidying books and shelves, recommending titles to other pupils, welcoming visitors and so on – they are not only helping to maintain the library and its purpose, they are also developing a range of essential skills and personal values.
"It has been an honour serving in one of the most important places in Wellington: the library. This position has helped me to develop my sense of responsibility and independence, as well as many different organisational techniques."
– Jason, year 7
"Being a pupil librarian allowed me to discover all different kinds of books, many of which have turned out to be my favourites. I've also been able to develop my reading skills and knowledge of books, while sharing that knowledge with others."
– Seren, year 7
"I love working in the library and it has helped me become more punctual and responsible as I always make sure that I go there whenever it's my turn to be on duty."
– Becky, year 7 As with every aspect of pupils' holistic education at Wellington, the programme is designed to reinforce the Wellington Identity and Values that we strive to help every pupil explore. As our pupil librarians' words demonstrate, they are helping to build a more respectful, inclusive space where everyone can truly enjoy reading. Not only does this stimulate their intellectual curiosity and that of their fellow pupils, they are also inspired to discover new books, new stories and ultimately new challenges.
Budding architects and library builders
While Wellington's library is comfortable, spacious and inviting, it may have some serious competition in the future, as our pupil librarians have big plans for some seriously impressive book havens of their own! Inspired by their experiences, they have been thinking hard about what makes a library fit for purpose, leading them to come up with plenty of ideas for their own perfect reading spaces. Many of their plans are quite novel, if you'll excuse the pun:
"My library would have a machine that could give you any book from any author in the world once you typed it in. It would also have plenty of statues dedicated to memorable and inspirational authors."
– Seren, year 7
"My library would have 27 floors, each one dedicated to a letter of the alphabet, though the first floor would be full of rescued animals for the visiting children to take care of."
– Amelie, year 7
"I would make all of the books waterproof, because people love swimming and reading so why not combine the two by having a pool in the library?"
– Elise, year 7
The library is in good hands
Fortunately, it seems that Mrs Jacobi will be well supported by a growing pool of enthusiastic pupil librarian applicants this year. Twice as many as last year have applied, in fact. When asked, all of last year's pupil librarians were quite vocal on the subject of whether they would take on such a responsibility again:
"This is definitely something that I would want to do again! Mrs Jacobi makes my day!"
– Aaliyaa, year 7
"I would love to be a pupil librarian again… even if you don't pay me!"
– Becky
"Will I apply for another library job? No one can stop me!"
– Rebecca, year 7
"I think the library should always be a place of peace and comfort where you can dive deeply into your favourite book. I definitely want to be a part of that next year."
– Raymond, year 8 So, whenever you happen to be in the College library next, look out for our pupil librarians, the ever-helpful and vigilant guardians of knowledge, they're sure to recommend you a good read or two.