Wellington Read-a-thon raises over 50,000 RMB for new libraries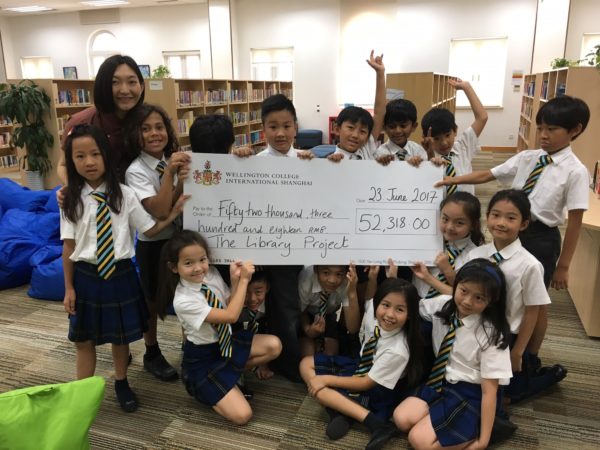 Nothing inspires a love of reading like a welcoming library that's well-stocked with books to discover, and nobody understands that more than our very own librarian, Mrs Pippa Jacobi. That's why, with the help of Wellington's pupils, Mrs Jacobi has been raising awareness and money for disadvantaged children in China and other parts of Asia who don't have the same access to books that we often take for granted. As part of the Library Project Read-a-thon 2017, Wellingtonians from reception class upwards have been demonstrating their love of books and reading. Thanks to their diligent devouring of hundreds of books, collectively spending almost 550 hours reading, Wellington's pupils have raised a grand total of 52,318 RMB. While all of the participating readers should be very proud of their efforts, a special mention must be made of Leo Suter in year 5, who is the 2017 'Minute Champion', having read for a remarkable 1,760 minutes or 29.3 hours! The donation was given to the Library Project charity on Friday 23rd June and hopefully by the end of the term we should know exactly how many new libraries and book corners it will make possible. Naturally, this amazing feat could not have been achieved without the encouragement and generous sponsorship of Wellington's parents, so a big thank you must go out to all of the parents who helped raise this year's grand total. This is the second year of the read-a-thon in connection with the Library Project, a charity whose goal is to construct libraries in migrant children's schools in China. The charity approached Mrs Jacobi back in Wellington's founding year but the College was had relatively few pupils (and the library had few books!) so the read-a-thon launch was planned for the following year. However, in 2016 Wellington managed to completely smash its original fundraising target of 18,000 RMB, reaching a total of over 76,000 RMB – the highest amount donated by any school in Asia that year. This was sufficient to fit our four new libraries and reading corners.
"There's such a love of reading here at Wellington that pupils across all ages instantly understood the value and importance of what the charity is trying to do. They really got it last year and this year there was that same attitude of wanting to read in order to help less fortunate children discover a love of books too. Having introduced the reception classes to this year's Read-a-Thon, I'm hoping that next year will be an even greater success, as everyone throughout the school will be aware of the project."
– Mrs Jacobi So prepare yourself for the 2018 read-a-thon by picking out a few page-turners, and hopefully we can provide more books, shelves and comfy chairs where children can curl up and fall in love with reading. Events of this nature serve as an ideal opportunity to spread Wellington's ideal of inclusivity beyond the College itself by helping those less privileged and making them feel part of the greater community around them. Given our pupils sterling effort and attitude this year, we can't wait to see what they can manage in 2018.