Aden's Chef Jerome takes Wellington pupils on a taste tour
"If more of us valued food and cheer and song above hoarded gold, it would be a merrier world." ― J.R.R. Tolkien
Instinctively, we all understand that the food we eat is important not only for our enjoyment and energy provision, but for shaping the state of our long-term health. The nutrition, flavours, health benefits and risks inherent in our food, these are all concepts that are essential to understand from an early age. This is what prompted Chef Jerome Laurent and his Aden team to prepare a series of special classes for some of our Wellington pupils in Shanghai.
Chef Jerome has over 20 years of experience in creating the finest of French cuisine, and even won a coveted Michelin star – the 'Oscar of cooking' – during his time as the chef-owner of Le Cilantro restaurant in Arles, France. Given his intricate understanding of how flavours work together and how to balance them, he set out to share this knowledge in the 'Gourmandise Escape' workshops, which were carefully designed for our year 4 and 5 pupils.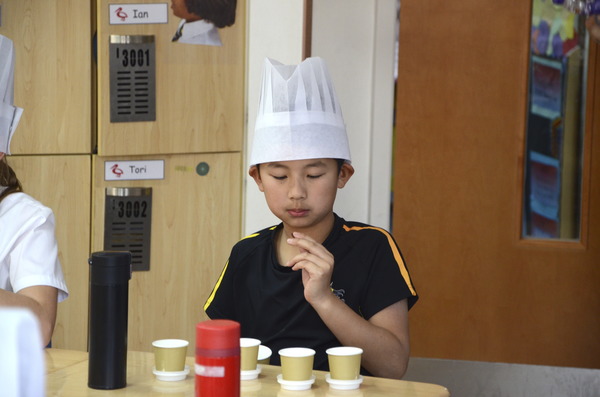 Initially, pupils discussed with Chef Jerome their general thoughts on food and how they would describe different dishes. This led to an exploration of the four taste types: sweet, sour, salty and bitter. Pupils had six numbered pots set in front of them, from which they conducted blind taste tests to achieve a better understanding of these taste types. From lemon juice, to chocolate and even ginger, pupils quickly identified the different flavours inherent in the common foods they encounter.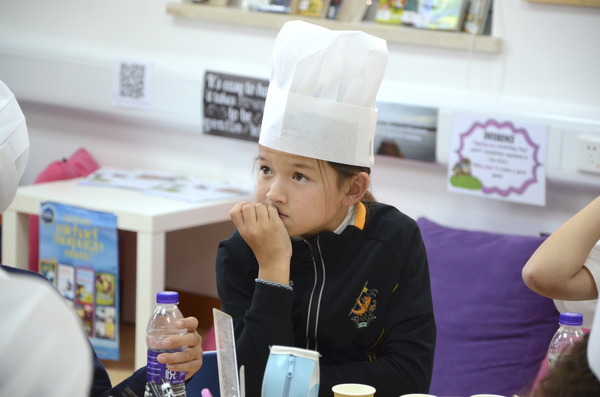 In addition to the practical skills of understanding taste types, Chef Jerome also explained to the pupils the importance of being openminded when it comes to what you eat:
"The combination of tastes is what makes for an exciting dish. It is so important for young children to broaden their mind and their palette as early as possible. If you close off your mind and your tastes then you are less likely to experiment with different foods as an adult."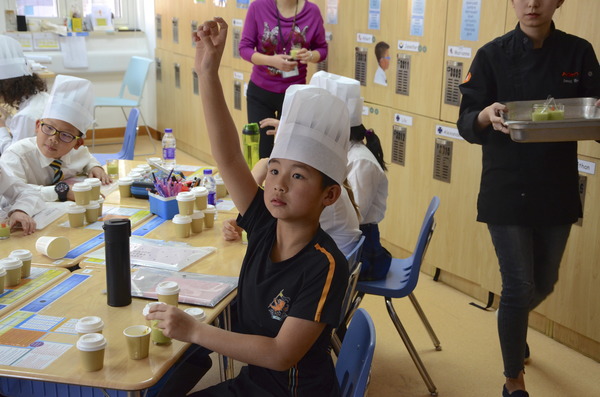 Chef Jerome then tested each group with a quick quiz to identify different types of fruits and vegetables and further explained the importance of including sufficient fruits and vegetables as part of a balanced, healthy diet, while also highlighting their potential for making great-tasting dishes:
"I was very impressed by their level of knowledge of different taste types and food groups. Wellington and Huili pupils clearly know how to eat well already, which is essential from as early an age as possible. Primarily, this understanding comes from their family and their home life, but formal education is a vital factor too, so we can always help further their understanding."
Finally, pupils were treated to a tasting session, allowing them to recognise how the Aden team chose, prepared and combined the right ingredients with complementary flavours to create three small yet distinctive dishes.
"With this part of the class, I wanted to help the children see how a dish comes together, from the picking of the ingredients to the following of the recipe instructions and the presentation of the food itself. Also, I want to give them a nice image of the chefs who prepare the food for them. I want them to know that the team care deeply that the pupils enjoy the food that they eat. It is not just for refuelling so they can continue to study, they need tasty and nutritious meals that they can actually enjoy as part of their school day."
Chef Jerome ended each class with a message regarding the wider cultural context of food and its importance to every country in the world:
"Wellington is very keen to help their pupils become global citizens with global mindsets, and food is a big part of that. If they are going to travel, study and maybe even work in different countries, they should be open to experiencing the culinary culture of those countries they are exploring."
---
Ami year 5
had the opportunity to attend one of Chef Jerome's 'Gourmandise Escape' workshops.
Thursday, 14 March, a French chef came to our classroom for a tasting! He came with two of his helpers, both women.
First the chef gave us a few small cups with different sorts of edible things in it. One contained yellow liquid which was lemon juice and one had delicious chocolates in it. The rest contained different sorts of powder. I could taste that one was curry powder and one was ginger. Some of the powders had some salt in it.
Near the end, we played a fun game. The chef showed us a type of vegetable or fruit on the board and we had to guess the name. Our table got a prize. After the game, we ate lemon tarts, a green pea liquid which was delicious, and lastly  some chocolate mousse.
In conclusion, I enjoyed the chef's visit because we got to learn a lot of things about food and the names of things we currently need to eat to grown up. I thought that it was useful for us and all the food was very tasty.